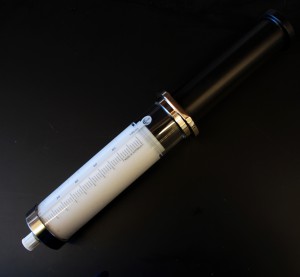 John Kheir, MD, a physician in the Cardiac Intensive Care Unit at Boston Children's Hospital, led a team that created tiny particles filled with oxygen gas, which, when mixed with liquid, could be injected directly into the blood. In an emergency, IV oxygen delivery could potentially buy clinicians time to start life-saving therapies. Kheir will recount his journey this evening at TEDMED, during the 5:30-7:30 p.m. session "Welcoming Death Into Life." To preview his talk, we're reprising his popular post from last year.
It was an ordinary Saturday night in the ICU at Boston Children's, in the fall of 2006. One of my patients was a 9-month-old girl who was admitted with pneumonia, and was having trouble breathing. I had gone in to check on her just a few minutes before; although she was not feeling well, she reached out and touched my hand as I examined her. I assured her mother she was in the best possible place for her care.
Five minutes later, the code bell alarmed. Our team rushed into her room to the most horrific sight I have ever seen.