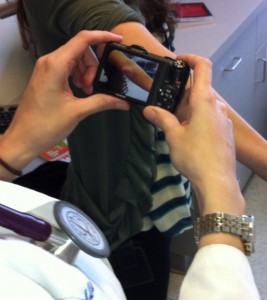 "Hey, can you take a look at my patient's rash?"
This question comes up on an almost-weekly basis at Martha Eliot Health Center, the community health center of Boston Children's Hospital where I see children for primary care. While dermatologic conditions are common in pediatrics, and we, in the primary care setting, often know what to do about them, patients sometimes come in with rashes that don't look like anything we've seen before. In these situations, we wish we could have a trained dermatologist just take a look, but the demand for new dermatology appointments at Boston Children's is high and wait times for non-urgent clinic visits can be long.
From the dermatologists' perspective, a large proportion of the patients in their clinic actually don't actually need to be there—they have common conditions that can be managed in the primary care setting, in the patient's medical home, in a much more convenient and cost-effective way.