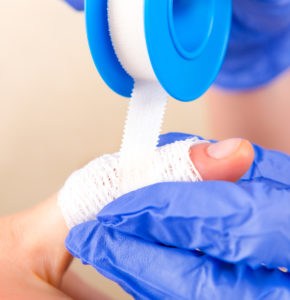 About six weeks ago, a glass shattered in my hand, severing the nerve in my pinky finger. The feeling in my fingertip still hasn't returned, and now I know why: I'm too old.
Going back to World War II, it's been speculated that recovery of peripheral nerve injuries—like those in limbs and extremities—is influenced by age. And studies indicate that peripheral neuropathy is common in people over 65, including those who have received cancer chemotherapy, and often unexplained.
"When you're very young, the system is very plastic and able to regenerate," Michio Painter told me recently. He is a graduate student in the laboratory of Clifford Woolf, PhD, director of the F.M. Kirby Neurobiology Center at Boston Children's Hospital. "After that, there's a gradual decline. By the age of 30, much of this plasticity is gone."
Traditionally, this decline has been thought to reflect age-related differences in neurons' ability to regrow, but when Painter studied neurons in a dish, he couldn't confirm this.