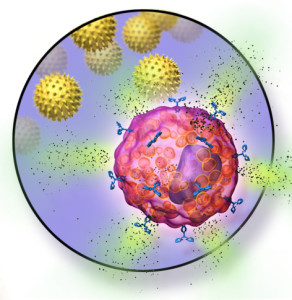 Hans Oettgen, MD, PhD, is Associate Chief of the Division of Allergy and Immunology at Boston Children's Hospital.  He leads a research group investigating mechanisms of allergic diseases.
Not long ago I received a wonderful email from "Sam," an 18-year-old young man with peanut allergy. He was participating in a clinical trial of oral immunotherapy (OIT) being carried out by colleagues here at Boston Children's Hospital.
In OIT, patients receive initially minute doses of the food to which they are allergic. Then, over many weeks, they ingest increasing amounts, under close medical monitoring at the hospital.
OIT's goal is to get patients to tolerate previously allergenic foods by inducing their bodies to produce Treg cells, or regulatory T cells. These are the master controllers of our immune responses, and their actions include suppressing allergic responses to foods. Food ingestion, as in OIT, will eventually induce food-specific Treg cells, but it can be a long and cumbersome process. For Sam, ingesting escalating doses of peanuts proved difficult: His email described frequent reactions ranging from stomachaches and itchiness to difficulty breathing.