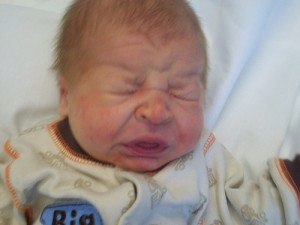 When anyone in my house gets a cold or other bug, often we all look at my three-year old son, the one in preschool, and ask, "What did you bring home?" While it may seem unfair, our reaction reflects the conventional wisdom: That children of preschool age are often the vector for the colds, flu, sniffles, coughs, stomach bugs, etc., that make their way through the family every year.
Science does bear this out, especially with regards to the flu. A 2005 study by Children's Hospital Boston researchers strongly suggested that otherwise healthy 3 and 4 year olds were prime drivers of flu epidemics, often displaying flu-like symptoms as early as late September.
Acknowledging preschoolers' increased risk of getting sick from the flu, the Advisory Committee on Immunization Practices (ACIP) – the national body that sets vaccination policies in the U.S. – updated its influenza vaccine recommendations in 2006 to include vaccination of children between ages 2 and 4. Now, John Brownstein, who leads the Computational Epidemiology Group in the Children's Hospital Informatics Program (CHIP) and took part in the 2005 study, demonstrates that the policy change has had quite an effect.
Together with CHIP fellow Anne Gatewood Hoen, Brownstein took advantage of the fact that Canada's National Advisory Committee on Immunization did not call for vaccinating this age group until 2010, creating a four-year span where the recommendations of the two neighboring countries differed.
"The differences in the U.S. and Canadian policies created conditions for a natural experiment for evaluating the effects of U.S. policy change," says Brownstein. "They also gave us an opportunity to test whether we could use hospital-based real time surveillance data to assess the effects of policy changes, and do so more quickly than traditional epidemiologic studies, which are more focused on vaccine uptake than on outcomes."
With colleagues at McGill University, the pair compared data on flu-like illness from two pediatric emergency departments (EDs), at Children's Hospital Boston and at Montreal Children's Hospital, between 2000 and 2009. "Montreal and Boston are similar demographically and have similar epidemiological dynamics with regard to seasonal influenza," Hoen says. "We also examined data on the virus strains circulating in each city for each season to account for any viral differences and ensure that we were making valid comparisons."
Their findings, published in the Canadian Medical Association Journal, make a strong case for vaccinating preschoolers for the flu. Not only did their rate of flu-related visits drop by 34 percent in Boston compared to Montreal, but visit rates for other age groups declined as well, between 11 and 18 percent.
Hoen offers a few possible explanations for the rate declines among non-preschoolers: "It could be that vaccinating preschoolers reduced the spread of the virus in the home and the community, kind of a 'herd immunity' effect. It is also possible that the policy change had the side effect of improving vaccine uptake overall by promoting general awareness of the benefits of vaccinating children overall, or by increasing the likelihood that parents would get the siblings of preschoolers vaccinated."
Brownstein thinks the kind of analysis they conducted could be applied to broader questions. "There almost certainly other scenarios in which it would be possible to look at health status differences between populations based on policies, behaviors, etc.," he says. "And we don't have to limit ourselves to infectious diseases, but can look at chronic diseases or medication safety issues. More real-time data is coming out, and we just have to think carefully about it, understand it, and find the proper context in which to make comparisons."
The ACIP released its most recent flu recommendations for 2011 back in August, repeating its call for vaccination of everyone over the age of 6 months. And with the season upon us, there's no better time than the present to learn more about the flu and to get your children – and yourselves – vaccinated.