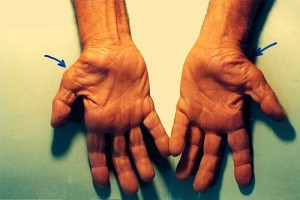 It's common in medicine for physicians to "wait and see" before taking treatment to a more invasive (or expensive) level. But when it comes to motor nerve injuries, combined laboratory and clinical evidence suggests that approach may be fundamentally wrong.
That would go for injuries including carpal tunnel syndrome, cubital tunnel syndrome (a compression injury of the ulnar nerve in the elbow), nerve damage from surgery or chemotherapy, and brachial plexus avulsion injuries (these often happen when people fall off their bikes; the arm is bent backwards and nerves get ripped out of the spinal cord).
In serious cases, patients may recover sensory function, but rarely recover full muscle function and strength. Lab studies by neuroscientists at Children's Hospital Boston provide a biological explanation, and therein may lie a solution.
It's not that injured motor nerve fibers don't regrow – they can. It's that they don't grow fast enough. By the time they reach the muscle fibers, they can no longer communicate with them — in fact, they're deliberately frozen out.
"There's a clock ticking, and if you're too late, the muscle cannot be functionally reactivated," says senior investigator Clifford Woolf, director of the F.M. Kirby Neurobiology Center at Children's.  "If there's muscle weakness, waiting six months to see if it gets better or worse before intervening may not be the best idea."
Studying mice with sciatic nerve injury, Woolf and colleagues found that regenerating nerve fibers, or axons, must reach the muscle and form the junction known as a synapse within about 5 weeks. If that window is missed, and the muscle has gone too long without nerve stimulation, the axons can't go the final distance to synapse with acetylcholine receptors on the muscle.
"Axons get right next to the site, but sit outside of the site – not on top of the receptor," Woolf says. "They're right next door; they only need to go 1 to 2 microns further."
Our own window for motor recvery still isn't known, but a review of data from 136 patients with carpal tunnel and 20 with cubital tunnel syndrome found 10 months to be a statistically significant dividing line. On muscle tests, patients with cubital tunnel syndrome had average functional scores of 4 (on a scale of 0 to 5) when decompression surgery was done within 10 months of injury, but just 0.5 when surgery happened later. As the time to surgery decreased, motor recovery increased.
As in spinal cord injury, getting peripheral nerves to regenerate isn't enough – the newly sprouted axons must function. Woolf's team is searching for the inhibitory signals that are keeping synapses from forming, and doing drug screens for compounds to counter them.
They're also looking for ways to simply get axons to the muscle faster — before the window for forming synapses starts to close.
That approach has paid off in the mice: When Woolf and colleagues turned on the gene for human heat shock protein 27 (Hsp27), a protein secreted in response to injury, axons grew almost twice the distance within 72 hours. The mice recovered motor function in their paws — even when their sciatic nerves were completely severed — while their peers remained paralyzed and showed muscle atrophy.
At left, in red, are motor fibers from mice without Hsp27. Though they come very near the muscle, they are unable to form synapses at the junction, shown in green.
At right, in the mice with Hsp27 turned on, the fast-growing nerve fibers did form synapses with the muscle, and were able to restore motor function.
Hsp27 is produced right at the leading edge of the axon, Woolf's team found, priming it to grow and extend. The team plans to set up another drug screen to test for compounds that increase levels of Hsp27 without the need for genetic tinkering.
The window for motor recovery is analogous to the "critical period" for visual recovery in children with lazy eye or cataracts. "Like the critical period for vision, maybe a synapse cannot be re-formed after a space has been empty," says Woolf. "This changes how we try to promote regeneration."
Woolf isn't sure the same "critical period" rule applies to all types of synapses; if it does, the findings could also be relevant to treating central nervous system injuries like spinal cord injury and stroke. But as for peripheral nerve injuries, "We can say to clinicians, 'do it now,' because if you delay it, motor recovery will be much less."