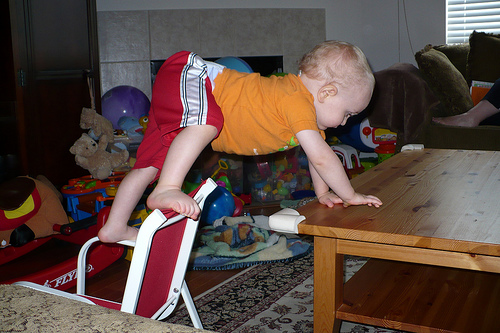 When I tell people I work at the Technology and Innovation Development Office at Children's (TIDO), they usually think I work to commercialize patented blockbuster drug candidates. But many of the most satisfying projects I help promote are innovations that don't involve as much risk, time and investment, yet make a big difference for patients. Commercializing these innovations can help the greater good, and is part of what propels me to work at a licensing office at a pediatric hospital.
And sometimes it doesn't take much to help them along.
The Sonnewheel Body Mass Index Calculator and the Vidatak communications board for patients unable to speak or write are some products supported by TIDO without income being the primary goal. Another great example, which we blogged about recently, is helping make routine blood draws less stressful for kids with learning differences and their parents.
The Blood Draw Learning Kit grew out of a serendipitous meeting. Researchers studying autism spectrum disorders (ASDs) here at Children's felt that reducing the trauma of blood draws was important to many of our patients, and was a barrier to them participating in studies that might point toward new treatments.
"A lot of interventions are out there, but no one had put them together in a standardized manner and tested them to see whether they were able to be easily implemented by families and, of course, if they actually work," says Ellen Hanson, director of the Neurodevelopmental Disorders Phenotyping Program at Children's.
The Children's team developed a kit for families to help their children prepare for blood draws – a photocopied "social story" (written by Hanson and colleagues) that thoroughly describes the blood-draw experience in concrete, understandable terms, and a Ziploc bag filled with medical tools for the children to practice with. In a pilot study, the team found that it increased the phlebotomy success rate from 86 percent to 96 percent.
A 10 percent increase may not seem like a huge improvement, but to a hospital, eliminating repeat appointments for the same procedure saves money and time, while making life easier for many patients and families.
Around the time Hanson's study was finishing, Michele and Jeff Walker, owners of Bee Visual LLC, were looking to create visual support tools to help children prepare for medical procedures. They had used such supports with their own son, who has learning differences, and had developed other products, such as an iPhone/iPad app called Choiceworks that helps children complete daily routines, control their feelings and improve their waiting skills.
Lenny Rappaport, chief of the Division of Developmental Medicine at Children's, and colleagues at the Autism Consortium knew the Walkers and introduced them to Hanson's team. Upon meeting, the two parties instantly decided to work together.
Some capital was needed to turn Hanson's home-grown kit into a family-friendly commercial product — but not much. The TIDO-administered Technology Development Fund stepped in, and Hanson and Bee Visual worked with TIDO licensing manager Alan Yen over a six-month period to create the product.
An extremely modest grant was enough for Bee Visual to take Hanson's original social story text and create visuals that would "speak" to children with learning differences. "Creating visuals is harder than you think," says Michele. "It is an art. The right graphic needs to be interpreted correctly by a child."
The team also obtained input from special education specialist Carol Gray, of the Gray Center for Social Learning and Understanding – originator of the social story idea. "She was immediately interested in helping kids out," Hanson says.
The Blood Draw Learning Kit went on the market in the beginning of 2012 and now can be purchased through Bee Visual's web site. It is starting to be carried by some Boston-area drug stores, and will be featured in the February issue of Autism Spectrum Quarterly.
I love this story because it's an example of how we can use minimal resources to make things better for kids and their families, through productive partnerships.
"We are not a large corporation," says Michele. "We are a mom and dad looking to do the right thing and help other families that are in the situation we were once in."
David Altman is a marketing and communications specialist in the Technology and Innovation Development Office (TIDO) at Children's Hospital Boston.