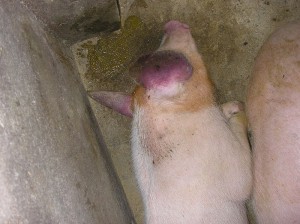 Al Patterson, PharmD, is director of Pharmacy at Boston Children's Hospital. Read his February 13, 2012 testimony before the Massachusetts Legislature's Joint Committee on Public Health. 
More than 80 percent of the United States supply of heparin, a commonly used blood thinner, originates from pigs reared in farm co-ops in China. Farmers scrape mucus from the intestines and send it to central processing facilities, where heparin is extracted and purified before being sold to U.S. pharmaceutical companies.
But in 2007, blue-ear pig disease, causing a respiratory syndrome, became endemic in Asia—leading to a shortage of pigs and a shortage of heparin. In order to preserve their market share, producers began creating fraudulent substitutes, including one that behaved chemically like heparin, but was actually a manmade compound known as oversulfated chondroitin sulfate (OSCS) derived from pig, sheep or cow cartilage.
In late 2007 and early 2008, dialysis clinics in the U.S. began reporting cases of anaphylaxis – severe allergic reactions – that were eventually traced to tainted heparin from Baxter Healthcare Corporation. The problem spread beyond dialysis clinics, and Baxter recalled all their heparin lots in mid 2008. The highly allergenic, OSCS-tainted heparin caused at least 175 deaths worldwide.
That was the start of a drug shortage problem that extends far beyond heparin and is getting progressively worse, threatening the vulnerable children we treat. As a hospital pharmacy director, I've often dealt with drug shortages, but nothing like what we're experiencing now.
In the wake of the heparin situation and others, the FDA dramatically ramped up its regulatory actions and inspections, shutting down many pharmaceutical manufacturers. Others abandoned the market on their own, finding the profit margins too low.
The remaining pharmaceutical vendors haven't been able to pick up the slack. The number of drugs in short supply has tripled since 2006—it's now hovering at around 265—and hasn't crested yet.
To make things worse, wholesalers accelerated the practice of taking drugs out of normal distribution channels, selling them to secondary wholesalers, hoarding them and trying to sell them at inflated prices on the "grey market."
We're concerned. Methotrexate, which we use to treat acute lymphoblastic leukemia, the most common childhood cancer, is now in critical shortage. At one point, we could not obtain it—leaving us at the brink of being unable to provide a standard of care established by Sidney Farber's work here 60 years ago.
Intravenous medications, especially generics, are especially hard-hit. Over the past year, we've had to scramble to provide essential IV nutrition for our premature infants, as every component of total parenteral nutrition (TPN) has been in short supply.
Here's another example: When babies are born with a heart problem called patent ductus arteriosus—a blood vessel that fails to close at birth—we typically close the vessel by giving IV injections of indomethacin. A shortage of this medication has threatened to force these vulnerable infants to undergo surgery instead.
There are work-arounds and substitutions for some drug shortages, but other times, frankly, we have to resort to hoarding and rationing to protect our patients. We recently learned that chloral hydrate, used for sedation, is going to be discontinued. We bought forward more than a year's supply to sustain us until we figure out another solution.
Work-arounds can be problematic, especially in critical care settings. Due to possible contamination and recalls, the anesthetic propofol has been in short supply, forcing our intensive care units to use earlier-generation anesthetics that cause nausea and vomiting and take longer to wear off. Even more alarming are the shortages of epinephrine and atropine, essential resuscitation medications that lack any real substitutes.
While the FDA has a small staff devoted to alleviating drug shortages, it has no authority to compel a company to manufacture a drug. It generally won't allow importation from Europe, which is not experiencing shortages to the extent we are, unless the FDA inspects the facility.
Since an Executive Order issued last fall by President Obama, the FDA is now allowing some importations, like thiotepa from Italy, which we use to treat the pediatric brain tumor medulloblastoma (to the tune of $17,000 a vial). Late last month, the FDA even overrode a drug company patent and allowed a generic version of the ADHD drug Adderall to be marketed.
On July 9, President Obama signed the Food and Drug Administration Safety and Innovation Act into law. Among its provisions is a requirement that manufacturers of certain drugs notify the FDA when they foresee a possible shortage. It also provides for expedited FDA review of proposed manufacturing changes for these drugs. Finally, it clarifies the rules around hospitals' repackaging of drugs into smaller amounts, a provision especially helpful for pediatrics.
These are small steps, not a comprehensive solution to drug shortages. We will continue to work with the Children's Hospital Association and others on further legislative strategies to solve this pressing issue.
Has the FDA gone overboard in regulating, as the House Committee on Oversight and Government Reform charged in June? It probably has. But in a drug industry that's now become global, quality issues are a real concern. Eighty percent of active pharmaceutical ingredients come from the Pacific Rim, where we have no direct control. The tainted baby formula scandal was a dire warning of what can happen when there aren't tight standards.
Drug shortages (and related price gouging) will likely get worse before they get better.  Until then, Boston Children's and other hospitals will continue to beg, borrow and steal every way we can. If push comes to shove, we will formulate some drugs ourselves. In the meantime, we will build the most resilient safety net possible.
 [Ed. note: Read more about drug shortages in our pediatric health blog, Thriving.]