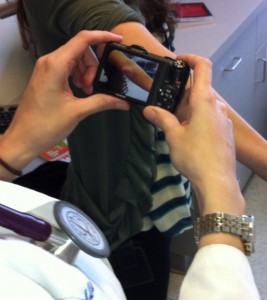 "Hey, can you take a look at my patient's rash?"
This question comes up on an almost-weekly basis at Martha Eliot Health Center, the community health center of Boston Children's Hospital where I see children for primary care. While dermatologic conditions are common in pediatrics, and we, in the primary care setting, often know what to do about them, patients sometimes come in with rashes that don't look like anything we've seen before. In these situations, we wish we could have a trained dermatologist just take a look, but the demand for new dermatology appointments at Boston Children's is high and wait times for non-urgent clinic visits can be long.
From the dermatologists' perspective, a large proportion of the patients in their clinic actually don't actually need to be there—they have common conditions that can be managed in the primary care setting, in the patient's medical home, in a much more convenient and cost-effective way.
To address both problems, we partnered with Boston Children's Hospital dermatologist Stephen Gellis, MD, to launch a pilot teledermatology program in April 2012, supported by a Lovejoy Resident Research and Education Award and the Telehealth group from the hospital's Innovation Acceleration Program.
"Hey, can you look at my patient's rash?"
Picture this: A patient comes in with a mystery rash, or a common skin condition that is resisting standard treatment. We at Martha Eliot take a few high-quality photographs of the rash from various angles and distances and complete a quick online clinical history form. The photos and the form are securely transmitted to Dr. Gellis at Boston Children's, triggering an automated email alert. At his convenience, often within hours, he reviews the information and responds to us with decision support and recommendations—triggering another alert.
Sometimes his recommendation is "I need to see this patient in person—please refer them to our clinic." More commonly, he is able to immediately identify the lesion and make suggestions on how to treat it.
This type of telemedicine is known as "asynchronous," meaning the patient, primary care provider, and dermatologist don't all have to be available at the exact same time. We are applying quality improvement methods to continuously tweak the system and perfect it before expanding it to other sites and specialties. Our aim is to prove it feasible, efficient, patient-centered, and able to serve as a model for other telehealth initiatives.
The referring providers we surveyed love the convenience of getting a timely response from a dermatologist, and the patients appreciate being managed in their medical home without having to wait for a dermatology appointment, miss work and school, travel to Boston Children's, find parking and pay a co-pay.
And why did Dr. Gellis volunteer his time? "I was intrigued to see if there is a way to make this a useful tool for pediatricians in practice," he told me.
It seems to be working. Experienced dermatologists say that they can often diagnose a rash on first look, and can even get a pretty good idea from a colleague's description over the phone. By harnessing that expertise, we can keep patients in their medical homes and prevent unnecessary referrals to our dermatologic specialty clinics. The question, "Hey, can you look at my patient's rash?" now can be directed across town, making it easy for us to seamlessly "share care" between primary care providers and specialists.
With growing national interest in containing costs and making healthcare more efficient, telemedicine holds great potential—for our health system and for our patients. So, to the patients at Martha Eliot (and eventually, we hope, clinics far and wide): Bring on those mystery rashes, and get ready for your photo shoot!
Laura R. Johnson, MD, MPH, is in her third year of the Boston Combined Residency Program in Pediatrics' Urban Health and Advocacy Track.