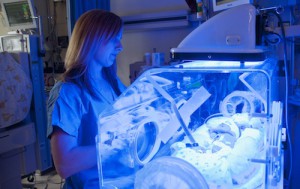 Family lore has it that when I was born, I had to spend a couple of extra days in the hospital for jaundice, the distinctive yellow tint to the skin that shows that a baby's liver isn't fully up and running yet. For me—and most of the newborns that develop jaundice every year in the developed world—the treatment was simple: spending some time lying under bright blue lights (aka phototherapy).
Note that I said "developed world." The story in the developing world is quite different. Sometimes the nearest hospital with phototherapy equipment is hours' or days' travel away. Even though it's simple, phototherapy is power intensive; no power, no treatment.
And untreated jaundice can have devastating consequences. The yellow pigment, called bilirubin, can accumulate in the brain and cause permanent brain damage or death.
The best solution for regions with few resources would have to be small and portable, run on batteries or other off-grid power sources, cost little, but still be safe and deliver the right wavelength and intensity of light. This is where Donna Brezinski, MD, wants to make a difference. And the Bili-Hut is her answer.
"There are 133 million babies born in the world every year, or about four every second," says Brezinski, an attending neonatologist with Boston Children's Hospital's Division of Newborn Medicine. "Roughly 8 percent are born with neonatal jaundice severe enough to need treatment."
However, she continues, "about 70 percent of India, for example, doesn't have access to the electrical grid, which right now means that children in these areas just can't access phototherapy. Even the areas that have hospitals with phototherapy equipment often have devices that either don't deliver therapeutic light doses or are in disrepair. Which is why between 15 and 30 percent of neonatal deaths in rural India are either directly attributable or associated with jaundice."
Which brings us to the Bili-Hut. Designed at Brezinski's dining room table, it's basically a battery powered pop-up tent lined with LEDs. Collapsible and highly portable—it can fit into a shipping tube—it's still big enough for a newborn to fit inside comfortably and completely. The LEDs that line its inner surface are arranged in a radial array, and can shine the right kind of blue light at the right intensity over a baby's entire body.
All the parts are off-the-shelf. The interior lining, for example, is made from a material used for hydroponic gardening. And it can run off 12-volt power—like the power from a car battery—for one month but can also be plugged into a wall socket if grid or solar power is available.
"We want to make this appropriate for use in developing countries," Brezinski explains. "It can work completely off the grid. And we're trying to keep fabrication simple, so that local textile mills or other factories could make them. That will keep costs low, add to the local economy and make it easy for clinics nearby to acquire them.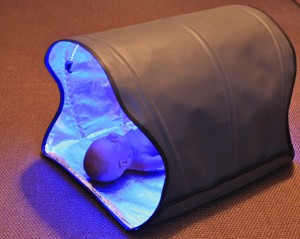 "Our most recent set of prototypes," she notes, "was built by a company that makes roofs for convertible cars."
Brezinski has launched a company, Little Sparrows Technologies, to develop and commercialize the Bili-Hut, which took top honors at last week's M2D2 New Venture Competition, an innovation contest run out of the University of Massachusetts at Lowell. She's working with Massachusetts General Hospital and the Lata Medical Research Foundation, an Indian non-profit, to raise funds and field test the system in India, but she could foresee using the Bili-Hut in any area with high infant mortality related to jaundice.
Brezinski sees the problem of neonatal jaundice in developing countries as a combination of "clinical pull"—a medical need crying out for a solution—and ethical calling.  "From both a clinician's and an inventor's point of view, if you're interested in developing a need-based solution that's both low cost and highly effective, there's nothing more satisfying than neonatal jaundice. And because neonatal jaundice is nearly 100 percent curable with phototherapy, it's essentially unethical not to solve this problem."