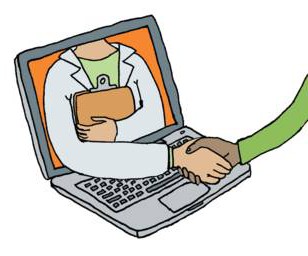 Most adolescents fight for the freedom to manage their own lives, especially when it comes to friends, curfews and hobbies. That excitement conspicuously slips away when they're faced with managing something less glamorous—like diabetes.
Since diabetes is a chronic illness with potentially serious risks, it requires continuous management. But adolescents aren't exactly lining up around the block for extra medical visits.
"Some adolescents forget to do things like take insulin or check their blood glucose level, and they could benefit from more frequent check-ins with their diabetes team," says Erinn Rhodes, MD, MPH, director of the Type 2 Diabetes Program and Inpatient Diabetes Program at Boston Children's Hospital. "But that's not easy, especially if time is limited or if transportation is a challenge."
So Rhodes has designed a study for adolescents 13 to 17 years old, to see if "televisits"—video conferences between teens and their diabetes care providers—can improve their diabetes while encouraging better self-management.
Participants—already being treated for type 1 diabetes at Boston Children's—are randomly divided into two groups, while continuing their traditional diabetes care. All have a hemoglobin A1c greater than 8 percent at the time of enrollment (levels of 6.5 percent or higher indicate diabetes).
The teens in one arm of the study receive only mailings to their home communicating simple messages related to their diabetes, like the timing of their next appointments. A six-month curriculum has been developed for teens in the second arm of the study, which includes downloading blood glucose data remotely from home and participating in monthly televisits with two professionals—a diabetes nurse educator to discuss the diabetes management plan and to set goals, and a social worker to provide support to implement the goals.
The televisits use a HIPAA-compliant, web-based videoconferencing technology provided by Boston Children's Telehealth Program. "It creates a virtual clinic room with a key code to enter and is completely private and secure," Rhodes says.
The visits encourage patients to create their own diabetes and self-care goals and to think about how to progress toward these goals. At the end of each televisit, parents are invited to join in and understand how they can help their children at home. The thought is that more frequent and convenient visits might help foster realistic routines.
"We are always looking for innovative new ways to engage patients and families in their own care, and to improve adherence to treatment plans and medications," says Telehealth program manager Shawn Farrell. "We are excited about the endless possibilities for improving care and patient outcomes with telehealth."
The trial is just beginning, but Rhodes is hopeful that in the near future she'll see patients better managing their conditions and getting healthier. If all goes according to plan, this kind of intervention could be helpful for patients with other chronic conditions as well.
"Our goal with this format and curriculum was to create a model that could easily be replicated and scalable to other settings and for other chronic conditions," Rhodes says. "This might be especially important for populations, such as teens, with adherence issues."