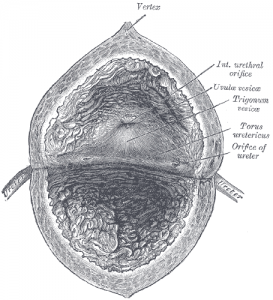 Ask a group of 15-year-olds what's on their minds, and you'll likely hear something along the lines of video games, parties and maybe homework. Ask Adrian Haber, a sophomore at Boston Latin School, and you'll hear something surprising: nanoparticles and bladder spasms.
Under the mentorship of urologist Hiep Nguyen, MD, at Boston Children's Hospital, Haber has pioneered a new drug delivery system for bladder spasm medication. Nguyen believes Haber's work has laid the groundwork for what may become a safer, more effective alternative to existing drug therapies.
The student and doctor began their partnership in November 2012; Haber, already a veteran of the Boston Regional Science Fair, was looking for a new project—one that would combine his interests in physics and biology. His mother Constance Houck, MD, an anesthesiologist at Boston Children's, knew just the person to ask. And Nguyen had a problem that was long overdue for a solution.
Bladder spasms, affecting more than 39 million Americans both young and old, are contractions of the bladder that cause an urge to urinate and are sometimes accompanied by extreme pain. Eventually, they can cause a patient to lose bladder control.
The drug most commonly prescribed for bladder spasms, oxybutynin, can cause severe side effects like heat stroke (through inability to sweat) and stomach pain. And because it is delivered through the blood, its therapeutic effects are weakened by the time it reaches the bladder, forcing physicians to use large doses that increase the risk of side effects.
If there were a way to get the medicine directly to the bladder, Haber and Nguyen brainstormed, patients would get relief from smaller doses and have fewer, if any, side effects. There was just one problem: A super-tight, waterproof lining called the urothelium prevents medication—or anything else—from getting into the bladder tissue.
Enter nanoparticles, structures with diameters less than one hundredth the width of a human hair, tiny enough to penetrate the tight junctions between bladder cells. Haber and Nguyen used hollow, fat-coated particles, known as liposomal nanoparticles, to deliver the water-soluble oxybutynin directly to the bladder muscle. Liposomes can easily pass through cell membranes because both are composed of the same lipid material.
Haber worked diligently after school from January to March of this year, testing the liposomal nanoparticles in pig bladders under Nguyen's guidance. He exhibited his project at the Boston Regional Science Fair, and quickly caught the attention of organizers at the BioGENEius Challenge, a science competition focused on biotechnology. Adrian travelled to Chicago in mid-April as one of two finalists from Massachusetts.
Haber's project also caught the eye of organizers at the Intel International Science and Engineering Fair, whose past winners include a 15-year-old Maryland student who created a noninvasive tool to detect pancreatic cancer. Travelling to Phoenix, Ariz., last month, Haber met and competed against a group of 20 other high school finalists. "The experience was amazing," Haber says. "I got to talk to people from all over the world my age, and I learned about new advances in biotechnology."
While Haber's drug-delivery research will need to be verified in live animals, Nguyen hopes the experience will encourage Haber to stay involved in academic medical research. "One of our hospital's missions is to inspire the next generation of physicians and medical professionals," he explains. "We are losing a lot of great minds to the programming and engineering fields."