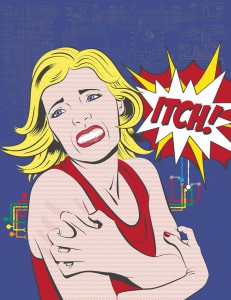 This post originally appeared in longer form on Harvard Medical School's news site. Try not to scratch when you read it.
There's itch, and then there's itch.
New research has revealed distinct sets of itch-generating neurons that explain why current itch therapies often fail. It also suggests new ways to selectively silence itch.
"We think this [research] has therapeutic implications," says Clifford Woolf, PhD, director of the F.M. Kirby Neurobiology Center at Boston Children's Hospital and professor of neurology at Harvard Medical School (HMS).
While itch is more aggravating than life-threatening, Woolf and HMS graduate student David Roberson hope their work might one day ease the torment itch can cause, particularly in children.
"If you go into the pediatric immunology wards, you see little kids with their hands in mittens or sometimes tied down because they scratch themselves to a point where they damage themselves," says Woolf.
Antihistamines don't always work on itch, because most itch sensations are not caused by histamine, the substance that induces hives and other miseries. Eczema, atopic dermatitis, dry skin and allergic itches, which are far more prevalent, are spurred by other irritants, prompting specific nerve cells to send signals screaming, "Scratch!"
But one day, the very sensation that sends your fingernails scrambling over your scalp may open the door to relief. Woolf, HMS graduate student David Roberson and colleagues have shown in mice that the nerve cells that cause itch also let inside their walls a drug that can put out the itchy fire.
Their work also solidifies the notion that itch is distinct from pain, which was controversial until recently. In their paper, published in Nature Neuroscience, Woolf and Roberson confirm that there are both itch- and pain-specific nerve fibers on the skin, and tease out the first evidence that different nerve fibers sense different kinds of itch.
To get there, the scientists used a tool from pain research. In 2007, Woolf, along with Alexander Binshtok, PhD, of Hebrew University and Bruce Bean, PhD, of HMS, published a landmark pain study in Nature describing a way to deliver a derivative of the local anesthetic lidocaine into pain-sensing nerve fibers.
That compound, called QX-314, had previously failed as a drug, because it can't enter all neurons in the way lidocaine can numb your whole jaw at the dentist. But Woolf and his team found that QX-314 could block the pain nerves if combined with capsaicin, the searing ingredient in chili peppers. Capsaicin opened a large pore in nerve-cell membranes—an ion channel called TRPV1—allowing QX-314 to selectively enter pain-sensing neurons. (This technology was later licensed to Endo Pharmaceuticals.)
"Our breakthrough was to use biology as our drug-delivery device, so the drug would be delivered to its target site only if a particular set of pores in the membrane were opened to allow the drug in," says Woolf. "Suddenly, we had a tool to ask, 'Is itch distinct from pain?' and then, 'Is histamine-dependent itch distinct from other kinds of itch?' "
It turns out that histamine and non-histamine itch activate different receptors on neurons that are coupled to different TRP channels. Histamine receptors are coupled to TRPV1, while receptors for other itch-inducing substances are coupled to a separate channel, TRPA1. (The antimalarial drug chloroquine also activates TRPA1, which may explain why so many people who take the drug suffer from intolerable itch.)
Silencing different types of neurons with QX-314 allowed the scientists to establish that histamine and chloroquine act on two distinct sets of neurons responsible for two different kinds of itch.
"In these experiments, [Woolf] used a clever tool that also has great promise for selective itch treatment of just the neurons that are active," says Sarah Ross, PhD, of the Pittsburgh Center for Pain Research, who was not involved in the work.
For their experiments, Roberson watched hours of video of mice injected with histamine or chloroquine, documenting hind-limb scratching (indicating itch) versus forepaw swiping (indicating pain).
"We could block the itch fibers with QX-314 without apparently blocking the pain nerve fibers," Roberson says. "We also found we could block the histamine nerve fibers without blocking the fibers that respond to chloroquine."
Roberson is now testing topical creams in mice, the first step in a long process that could eventually lead to clinical trials in people.
"If you have itch, a topical solution of QX-314 on your skin should go only into the nerve fibers that are causing the itch—because in order to produce the itch, the itch channels have to be active," says Woolf. "It won't produce any local blockade of pain, but you get an itch cream that produces only a local anti-itch effect."