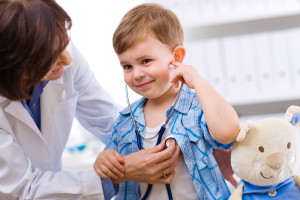 In 2011, the National Heart, Lung, and Blood Institute (NHLBI) guidelines for cardiovascular risk reduction in pediatrics reinforced the recommendation that primary care pediatricians (PCPs) should screen children and adolescents for cholesterol and blood pressure elevations. However, as PCPs try to incorporate it into their well childcare routine, questions are being raised about the practical implications of implementing that recommendation.
Last month, the U.S. Preventive Services Task Force (USPSTF) published its finding that there is not enough evidence to recommend for or against routine screening for primary hypertension in asymptomatic children and teens, repeating its suggestions from 2003. It has issued similar statements about lipid screening.
At this week's 2013 American Academy of Pediatrics (AAP) conference, Sarah de Ferranti, MD, MPH, director of the Preventive Cardiology Clinic at Boston Children's Hospital, gave a presentation titled "Universal Lipid Screening: Are Pediatricians Doing It and How Is It Working?" She spoke with Vector about screening both for cholesterol and blood pressure in children.
Specifically, for lipid screening, the NHBLI guidelines recommend selective screening based on family history or personal risk factors (such as obesity) starting at age 2 years, and universal screening for children between 9 and 11 years of age, and again between 17 and 21 years. For blood pressure screening, the AAP recommends a routine check at every health care episode, beginning at age 3; the NHLBI and the American Heart Association endorse routine screening at annual check-ups starting at the same age.
The "most controversial addition" in the 2011 NHLBI guidelines was the universal lipid screening for pediatric patients, whereas selective screening has been taking place for years, explains de Ferranti.
This controversy was highlighted in two commentaries that appeared in the Journal of the American Medical Association in 2012. Matthew Gillman, MD, a Boston Children's preventive cardiologist, and Stephen Daniels, MD, PhD, of University of Colorado, wrote that the "extent to which lifestyle intervention reduces long-term risk in those with moderately elevated lipid levels is unknown." Bruce M. Psaty, MD, PhD, and Frederick P. Rivara, MD, MPH, of the University of Washington School of Medicine, suggested that universal pediatric lipid screening could lead to children being put on medication such as statins that may not be justified by the evidence.
"There is no single large-scale, randomized-controlled study evaluating the impact of screening pediatric patients for lipids or blood pressure on rates or timing of adult heart attack and stroke," says de Ferranti. "However, the circumstantial or supportive data are growing."
Identifying kids' cardiovascular risk
Adult cardiovascular guidelines rely predominantly on randomized controlled trials, which de Ferranti says cannot be conducted in children, because of the extended lead time between high cholesterol or blood pressure in childhood and the cardiovascular event (heart attack or stroke). "That's a 30-year study with hundreds of thousands of kids, only half of whom would undergo screening. It would be incredibly difficult to fund that study and garner long-standing participants," says de Ferranti.
However, the most high-risk patients who could potentially be identified through screening are those with familial hypercholesterolemia, a genetic disorder characterized by very high blood levels of low-density lipoprotein (LDL, or "bad" cholesterol), leading to early cardiovascular disease. These patients are eight times more likely to have a heart attack between the ages of 20 and 40 than the average population, says de Ferranti. "However, it's still unclear whether universal screening is the best method to identify these patients," she says.
The USPSTF believes there is not enough evidence to recommend for or against routine screening for primary hypertension. It has issued similar statements about lipid screening.
Family history is not always an effective screening criterion, she adds, because families don't always know all the details of their family members or the medications they take—and this unreliability is one of the reasons that universal screening emerged as an alternative option.
"The quality of the data required to answer important questions about the utility of screening this population–and the practicality of implementing this practice–is not as robust as we all would like," says de Ferranti. "However, the ideal data may not be possible to collect, so we have to do our best to sort things out with other types of data."
A method for change?
PCP adherence to these screening recommendations is probably dismal, although little information is available about actual provider behavior. De Ferranti attributes this to the busy practices that PCPs maintain, with many competing demands. "In a condensed period of time, PCPs are required to assess for sexually acquired diseases and acute infections," she says. "Also, anecdotal accounts suggest that PCPs aren't convinced that universal screening will truly uncover that many more at-risk patients. Physicians are concerned with the most pressing issues of the moment, and may not have time for longer-term problems."
De Ferranti sees a role for subspecialists in educating PCPs about the importance or relevance of screening for particular disease states. For its part, the Preventive Cardiology Clinic has developed a lipid screening Standardized Clinical Assessment and Management Plan (SCAMP), which is being implemented in the Children's Hospital Primary Care Center for all patients in the appropriate age category who also have relevant risk factors. The form requires detailed family history information, which may be gathered as part of a general checkup. These questions, along with some specifics about height and weight, may help determine a patient's risk.
"Armed with these data, we're evaluating which patients get recommended to undergo screening and which patients actually follow through with getting labs, if a recommendation does occur," says de Ferranti. "Hopefully, such tools will better inform the screening and guideline conundrum."