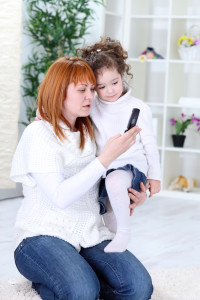 Kelly Dunn, a pediatric nurse practitioner in Medicine Patient Services at Boston Children's Hospital, is primarily focused on helping families with hospital discharge and improving patient throughput.
A child hospitalized on 9 East, a general medical floor at Boston Children's Hospital, was nearly ready to go home. The discharge order was written, and prescriptions were sent to the pharmacy. The staff nurse and I completed discharge teaching, competing with a very wiggly toddler for her tired mother's attention.
Before this family went home, I had one more question: Would you like to receive a text message or email to check up on you once you are home?
Within a minute or two, I had entered the mom's contact information and her preferred mode of communication (a text message to her cell phone) on an iPad. The family left, reassured to have a way of reaching a nurse familiar with their hospitalization should a problem or question arise at home—and pleased to have the option.
Before we started enrolling families in DisCo, our post-discharge communication project, a staff nurse would sit at a phone and call each family to see how the child was doing at home. The process utilized a sizable amount of the nurses' time, often to find that parents or caregivers weren't there when the phone rang, or that the phone number on record wasn't the best way to reach the family, or that problems had arisen long before (or long after) the nurse's call.
Follow-up phone calls are difficult to maintain as providing bedside care takes priority. Also, many parents and caregivers found that calling the main hospital number after discharge and trying to reach the physician, NP or staff nurse with questions could be challenging.
Vinny Chiang, MD, proposed that we make post-discharge communication a "push" from us, using technology that is already in our patients' and caregivers' hands. Through a FastTrack Innovation in Technology (FIT) award from Boston Children's Innovation Acceleration Program, the idea became a reality.
Our team from Medicine Patient Services (also including Fabienne Bourgeois, MD, Jayne Rogers, Israel Green-Hopkins, MD, and myself) met with FIT's dream team of developers, analyst and project manager to develop this new service. FIT built a program that lets us text or email families while keeping personal information de-identified for patient privacy. At the same time, it integrates back to our EPIC and Cerner medical record systems to provide real-time discharge dates to prompt sending the first text or email (with rules to avoid messaging on holidays or in the middle of the night), as well as notifications of hospital re-admissions or visits to our emergency department (ED).
Since we began the DisCo pilot in April 2013, more than 130 families have enrolled—about 85 percent of those approached—and have selected a text message or email equally as their communication preference. They receive their preferred communication within 24 hours of hospital discharge, asking three questions: whether they received their prescriptions, whether they followed up with their primary care provider and whether they are having any problems. Of the enrolled families, more than 50 percent have emailed or texted responses to our questions, usually indicating that things are going well (and needing no clinician follow-up).
If the caregiver indicates a problem or concern, I see it on the DisCo Dashboard, which I check daily from the iPad or my desktop. I then reach out to the caregiver by phone, asking questions, providing information, advice or reassurance about medication side effects, as well as asking about symptoms that have developed since discharge and questions about specialty clinic follow-up. Sometimes, post-discharge counseling regarding medications or referring patients back to the primary care provider is enough to avoid unnecessary ED visits or hospital readmissions.
As a pediatric nurse practitioner, I love being able to bridge the gap between the inpatient setting and home to provide family-centered care even after the patient has been discharged. DisCo makes the process less labor-intensive for nurses and easier for parents, and the parent still has a Boston Children's nurse on the phone, offering assistance. Our well-received pilot will now enter a second phase on 7 West, another inpatient medical floor, expanding our ability to provide care and enhance follow-up.