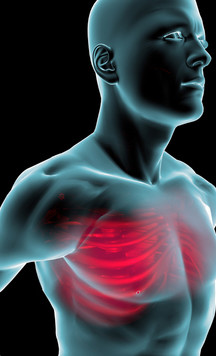 In the not-too-distant past, the medical community wasn't overly concerned about the quality of life of adults with cystic fibrosis (CF). It's not that doctors were callous; the life expectancy for the disease was just so low that the vast majority of CF patients never lived to see adulthood. But improved understanding and management of the disease in the past 30 years has changed that.
On average patients with CF are living into their late 30s, up 85 percent from the early 1980s. Today, more than 40 percent of all CF patients in America are more than 18 years old.
But data on the quality of life these patients enjoy have been seriously lacking. To fill this void, researchers from the Cystic Fibrosis Center at Boston Children's Hospital and nine other CF centers across America conducted one of the first studies to look at quality of life for adult CF patients.
"Knowing that the epidemiology of the disease was changing, we wanted to understand the experiences of adult patients with CF in a more quantitative way," says senior author Gregory Sawicki, MD, MPH. "Identifying a trajectory of the patient population's quality of life would have meaningful implications for future studies, as well as inform current treatment of individual patients."
As part of the prospective, longitudinal Project on Adult Care in Cystic Fibrosis (PAC-CF), researchers collected data on 300 adults with CF using a 50-question survey. Covering both physical and psychosocial health, especially aspects related to quality of life, it was administered seven times from April 2005 to January 2007. Specifically, the survey asked about physical functioning, body image, eating habits, digestive health, respiratory health, weight, perceptions of overall health, vitality, treatment burden, emotional functioning and social functioning. The CF Patient Registry for each participating center provided additional clinical data.
"There's an evolving interest in the medical community around the 'emerging adult' where kids with chronic illness are living longer than ever before," Sawicki says.
The researchers saw no significant trends in the participants' evaluation of their physical health during the study. However, patients reported improvements in their perceived treatment burden, improving nearly 9 points (on a scale 0 to 100) a year. Participants also reported an increase in their emotional functioning as time went on (3.2 points per year), demonstrating acknowledged improvements in their quality of life.
Certain demographic and clinical variables were associated with improved quality-of-life scores. Better lung function, as measured by forced expiratory volume (FEV)—or how much air a person can exhale during a forced breath—was consistently linked to higher quality-of-life scores. For example, a 5 percent increase in FEV was associated with a 0.5- to 2.3-point increase in overall quality-of-life scales.
Age and sex were also linked to quality of life scores. Compared with men, women reported significantly lower scores in physical functioning, vitality and respiratory symptoms, but higher scores in body image and weight. Older age was associated with decreased physical functioning across the board but was also linked to lower perceived treatment burden.
"Like any other major life change, adapting to life with a chronic illness takes time," Sawicki says. "As these individuals grow more accustomed to their treatment routines and other aspects of life with the disease, they become more comfortable with them. For example, younger adults with lower lung function initially reported high treatment burdens, but those burdens decreased significantly over time, indicating that patients devised coping strategies to support themselves during treatment, which eventually improved their overall quality of life."
Through their research, Sawicki and his team have provided quantitative baseline quality-of-life data that can inform discussions with individual patients, helping identify specific needs or points of intervention. At the population level, quality-of-life questionnaires could inform future CF therapies, which can now be measured not only by their effects on physical health, but also by their effects on psychosocial health.
"There's an evolving interest in the medical community around the 'emerging adult' where kids with chronic illness are living longer than ever before," Sawicki says. "This data will hopefully inform future study and even treatment for CF patients as their life expectancy continues to climb."