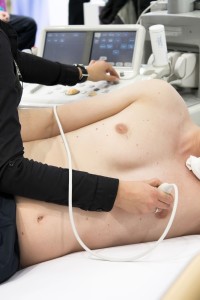 The drugs and treatments developed over the last 50 years have transformed many childhood cancers from death sentences into largely curable diseases. However, those same drugs and treatments can have lasting or late effects on many different organ systems.
Such is the case with anthracyclines: Patients treated with these chemotherapy agents have a greatly elevated future risk of congestive heart failure (CHF).
For this reason, the Children's Oncology Group (COG)—which brings together pediatric cancer experts from around the globe—currently recommends screening childhood cancer survivors with echocardiography every year or two, depending on their level of anthracycline exposure, for signs of asymptomatic left ventricular dysfunction (ALVD). If left untreated, this clinically silent condition can progress to congestive heart failure.
But are we screening the right survivors at the right times using the right methods? Answering that question for cancer and CHF would require prospectively studying thousands of survivors (itself a challenge, given childhood cancer's relative rarity) for decades, which is neither financially nor logistically feasible.
"It is important to monitor survivors so we can reduce the late effects of treatment whenever possible," says Lisa Diller, MD, a survivorship expert and chief medical officer of Dana-Farber/Boston Children's Cancer and Blood Disorders Center. "But we need to consider carefully how often we ask survivors to be screened over the course of their lives, given the substantial cumulative economic impact and anxiety that screening may cause."
Diller and Jennifer Yeh, PhD, of the Harvard School of Public Health (HSPH), have come up with one alternative to a huge, lengthy and expensive clinical trial: computationally modeling virtual survivors and their outcomes under different screening schedules and methods. By doing so, they've found that while screening is important, we may not be doing it in the most effective way.
As they reported in the Annals of Internal Medicine, Diller, Yeh and their colleague Anju Nohria, MD, of Brigham and Women's Hospital used data from the Childhood Cancer Survivors Study and the Framingham Heart Study to construct a computer model of a virtual cohort of 15-year-olds who had survived cancer at least five years.
They then simulated the cohort's CHF risk and clinical progression over the course of survivors' virtual lifetimes, layering in Medicare data to estimate the costs and value of different screening schedules and methods for different CHF risk groups.
The simulation offered up a number of take-home messages:
Screening does have an impact on survivors' CHF risk, potentially helping to prevent as many as one in 12 CHF cases.
The current recommendations for both screening schedule and screening method should be revisited. Modeling indicated that echocardiography might not offer the most value for the resources invested in reducing CHF risk among survivors whose risk is low based on their cancer treatment history (i.e., those who received a cumulative anthracycline dose less than 250 mg/m2). For survivors with high CHF risk, the data suggested that biennial echocardiography may be a high-value screening strategy.
Cardiac magnetic resonance imaging (cMRI) might be preferable to echocardiography. cMRI costs more per test, but is also a more sensitive test. In the simulation, cMRI-based screening of low-risk survivors every 10 years and high-risk survivors every five years was more cost-effective than any echocardiography-based schedule.
Fourth, the data suggested that for survivors at high CHF risk, proactive treatment (in the form of beta blockers and ACE inhibitors) before signs of ALVD appear might be more cost-effective than screening. That would have to be borne out in clinical studies, however.
On the whole, though, the simulation came down strongly on the side of screening, though perhaps less of it.
"Our findings suggest that there is a long-term benefit in screening survivors at elevated risk for CHF," says Yeh, who works in HSPH's Center for Health Decision Science. "Yet less frequent screening than currently recommended may be reasonable when other factors are considered. We hope these results can help inform the ongoing discussion about screening childhood cancer survivors."
Diller concurs.  "We think it is worthwhile to review the current CHF screening guidelines."