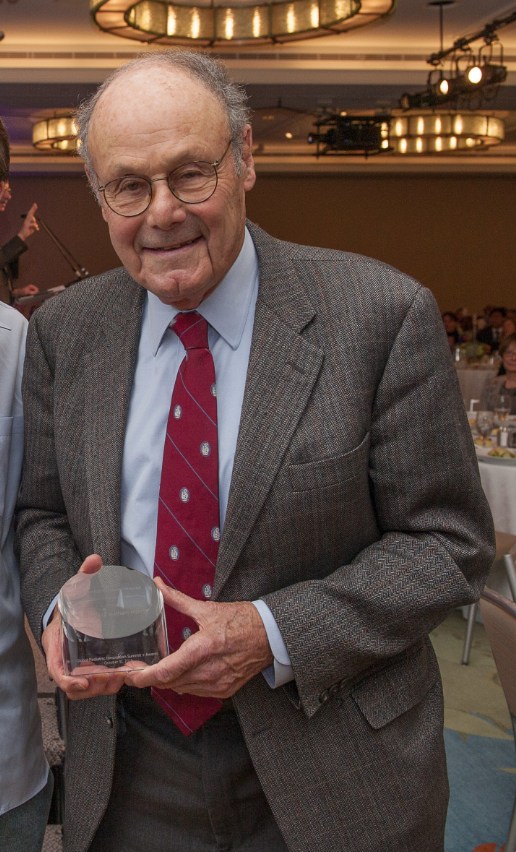 Peers describe David G. Nathan, MD, president emeritus of Dana-Farber Cancer Institute and physician-in-chief emeritus of Boston Children's Hospital, as a "a once-in-a-generation leader," a "giant" and a "proverbial triple threat" combining clinical care, research and teaching leadership.
Nathan, whose commitment to pediatric medicine spans nearly six decades, received a standing ovation when presented with Boston Children's inaugural Lifetime Impact Award Friday afternoon at the hospital's Global Pediatric Innovation Summit + Awards.
The Lifetime Impact Award recognizes a clinician and/or researcher who has devoted his or her career to accelerating innovation in pediatric medicine and who has made extraordinary and sustained leadership contributions.
"With the selection of David Nathan as the inaugural recipient of Boston Children's Lifetime Impact Award, we have set the bar high for this new honor," said Boston Children's President and CEO Sandra L. Fenwick. "David is the consummate patient-centered researcher who is not only a giant in the development of the field of pediatric hematology/oncology, but also a superb leader and teacher. His legacy lives in the greater excellence he has brought to Boston Children's and Dana-Farber, his scientific discoveries and the many leaders in clinical medicine and research who call him a mentor."
Nathan's most notable contributions to pediatric hematology/oncology include his leadership roles at both Harvard teaching hospitals, the first successful treatment for iron overload in thalassemia patients, prenatal diagnosis of thalassemia and sickle cell disease and development of the drug hydroxyurea, now a mainstay for managing sickle cell's painful effects for many patients. Today, he and Matthew Heeney, MD, director of the Sickle Cell Program at the Dana-Farber/Boston Children's Cancer and Blood Disorders Center, are running a clinical trial of regadenoson, which seeks to relieve sickle-cell pain crises by targeting inflammation.
"It is difficult to imagine another individual whose impact on the field of pediatrics has been so broad and deep," said Stuart H. Orkin, MD, chairman of pediatric oncology at Dana-Farber and associate chief of hematology/oncology at Boston Children's. "His influence has been felt by those in research laboratories, by those at the bedside, and, most importantly, by the patients to whom he has dedicated a life's work."
With great modesty, Nathan accepted the Lifetime Impact Award before an audience of several hundred and graciously thanked those that impacted his career.
"Nobody does anything by themselves in science or medicine," he said. "My accomplishments are theirs."
For more about Boston Children's Global Pediatric Innovation Summit + Awards 2014, read the coverage on Vector, visit www.takingontomorrow.org or follow #PedInno14 on Twitter.