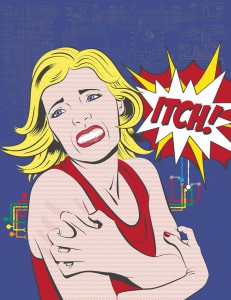 This post originally appeared in longer form on Harvard Medical School's news site. Try not to scratch when you read it.
There's itch, and then there's itch.
New research has revealed distinct sets of itch-generating neurons that explain why current itch therapies often fail. It also suggests new ways to selectively silence itch.
"We think this [research] has therapeutic implications," says Clifford Woolf, PhD, director of the F.M. Kirby Neurobiology Center at Boston Children's Hospital and professor of neurology at Harvard Medical School (HMS).
While itch is more aggravating than life-threatening, Woolf and HMS graduate student David Roberson hope their work might one day ease the torment itch can cause, particularly in children.
"If you go into the pediatric immunology wards, you see little kids with their hands in mittens or sometimes tied down because they scratch themselves to a point where they damage themselves," says Woolf. …