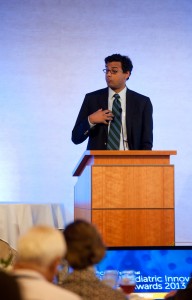 Wrapping up the National Pediatric Innovation Summit + Awards on Sept. 27, emcee Bruce Zetter, PhD, who runs a lab in Boston Children's Vascular Biology program, remarked, "I thought I was going to learn about technology. What I learned about was communication."
Surgeon, writer and public health researcher Atul Gawande, MD, MPH, laid bare this often overlooked element of medicine in his closing keynote. He eloquently made the point that communication—and more specifically systems—is where innovation is most needed and where it can have the most impact.
"We have emerged from the century of the molecule to the century of the system," Gawande said.
Right now, these systems are broken, seemingly everywhere. Gawande recounted the sad tale of Duane Smith, a patient who survived a severe car crash that ruptured his spleen, only to lose his fingers, toes, nose and job from an ordinary strep infection. …