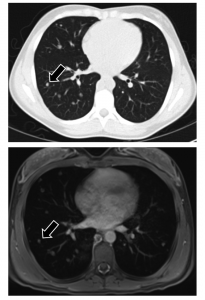 Magnetic resonance imaging, or MRI, can produce stunningly detailed images of the body's tissues and structures. Historically, however, the chest—and in particular, the lungs and airway—has proven challenging for radiologists to clearly visualize through MR images.
Why is that? Unlike most other solid organs, the lung and trachea aren't really solid. The air spaces within them do not absorb the magnetic fields or produce the radio signals needed to generate high-quality diagnostic images. Also, they are in constant motion—we have to breathe, after all.
For these reasons, radiologists have long relied on x-rays and computed tomography (CT) scans to take pictures of the lungs. Both can produce very good, highly detailed diagnostic images, but both also come with risks related to their reliance on ionizing radiation.
The lung MRI's time may now have come. In a review paper in Radiologic Clinics of North America (RCNA), an international team of radiologists led by Simon Warfield, PhD, and Edward Y. Lee, MD, MPH, of Boston Children's Department of Radiology outlines several recent advances that have made MRI a more viable—radiation-free—alternative for diagnostic imaging of children's lungs and airway. …