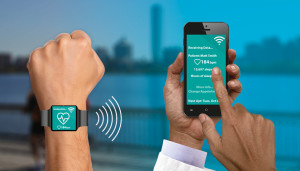 Fitbit, Jawbone, Nike, Withings…a lot of companies are already in the wearable/mobile health technology and data tracking game. But a couple of really big players are stepping on to the court.
At their most recent Worldwide Developers Conference, Apple announced both an app and a framework—Health and HealthKit—that will tie in with various wearable technologies and health apps. HealthKit will also feed data into electronic medical record (EMR) systems like Epic, which runs at some of the largest hospitals in the country. And rumors abound that an upcoming Apple smartwatch (iWatch? iTime? Only Tim Cook knows right now) will carry a host of sensors for tracking activity and health data.
Google also wants to get into the game with a health data framework called Fit that they announced at their I/O conference in June. Unlike Apple, its strategy seems more focused on providing a standard way for trackers, devices and apps from different manufacturers to talk to Android Wear devices.
What will entry of these big players mean? We asked Michael Docktor, MD, clinical director of Boston Children's Hospital's Innovation Acceleration Program. …