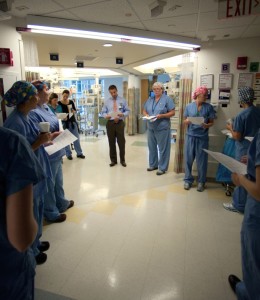 Registered nurses (RNs) remain the largest group of health care providers and typically account for the greatest share of most U.S. hospitals' operating budgets, about 60 percent. In adult hospitals, research has shown a consistently positive effect of increasing percentages of nurses with baccalaureate educations, and linked increased RN staffing and healthy work environments with improved patient outcomes.
However, this assessment has not been conducted in children's hospitals—until now.
In a study in the Journal of Nursing Administration, nursing leaders from 38 free-standing children's hospitals explored which nursing and organizational characteristics influence mortality for children undergoing congenital heart surgery.
The study, involving 20,407 pediatric patients and 3,413 pediatric critical care nurses, was led by Patricia Hickey, PhD, MBA, RN, from the Heart Center at Boston Children's Hospital.
In pediatrics, congenital heart disease is the most common birth defect requiring surgical intervention for survival. Due to their critical care needs, these patients consume a disproportionate share of U.S. hospital resources. …