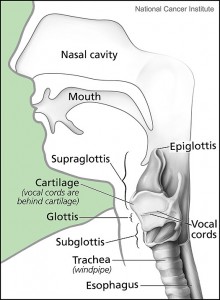 Intubating the patient is a critical step in any surgery where general anesthesia is being used. But as any anesthesiologist will tell you, intubating a child is very different from an adult, largely because there is less space available in which to maneuver the breathing (aka endotracheal) tube.
There's also less space in which to see. To place a breathing tube properly and keep the airway open, an anesthesiologist needs to see the patient's vocal chords and the opening of his or her windpipe. Typically, the doctor uses a laryngoscope to see into the throat, but sometimes tumors, congenital anomalies, inflammation, or other obstructions block the view.
The next tool of choice would be a fiber optic endoscope – essentially a long, thin, tubular video camera – to peer within the throat. Sometimes, however, even the fiber optic scope can't get a full view, and on occasion the scope and tube can get in each other's way, making the anesthesiologist's job harder and the procedure riskier.
But here's a thought: If one scope can't do the trick, what about two? …