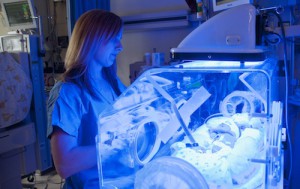 Family lore has it that when I was born, I had to spend a couple of extra days in the hospital for jaundice, the distinctive yellow tint to the skin that shows that a baby's liver isn't fully up and running yet. For me—and most of the newborns that develop jaundice every year in the developed world—the treatment was simple: spending some time lying under bright blue lights (aka phototherapy).
Note that I said "developed world." The story in the developing world is quite different. Sometimes the nearest hospital with phototherapy equipment is hours' or days' travel away. Even though it's simple, phototherapy is power intensive; no power, no treatment.
And untreated jaundice can have devastating consequences. The yellow pigment, called bilirubin, can accumulate in the brain and cause permanent brain damage or death.
The best solution for regions with few resources would have to be small and portable, run on batteries or other off-grid power sources, cost little, but still be safe and deliver the right wavelength and intensity of light. This is where Donna Brezinski, MD, wants to make a difference. And the Bili-Hut is her answer. …