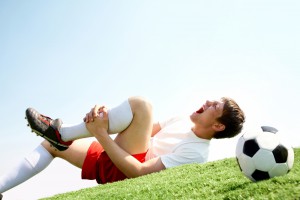 November 2014 update:
The FDA has approved first-in-human trials for the bridge-enhanced ACL repair technique. A total of 20 patients will participate. Ten will serve as an experimental group and they will undergo a bridge-enhanced ACL repair surgery. The other 10 patients in the study will have the standard ACL reconstruction procedure and serve as a control group.

The anterior cruciate ligament (ACL) is a powerhouse and the perplexing nexus of a sports injury epidemic.
Providing primary stability across the knee joint, the ACL is remarkably susceptible to rupture or tear, with more than 400,000 surgical reconstructions performed annually in the U.S.
In the 2013 National Football training camps, more than a dozen players were sidelined with ACL injuries. This spate of ACL tears is sure to ripple through high school and college football and soccer fields this fall.
A complete ACL tear is a devastating injury for athletes, typically ending the player's season and requiring surgical reconstruction. Although many athletes return to the field after reconstruction and physical therapy, studies suggest as many as 80 percent will develop arthritis within 14 years of the injury.
Moreover, children and adolescents are not considered good candidates for ACL reconstruction. The conventional procedure requires surgeons to drill tunnels through the growth plates—the developing cartilage near the end of long bones—but this can disrupt bone growth.
Boston Children's Hospital orthopedic surgeon Martha M. Murray, MD, wants to change the game plan for ACL injuries. Her research focuses on bio-enhanced ACL repair that uses a bio-engineered scaffold saturated with the patient's own blood to stimulate healing and to promote clotting, …