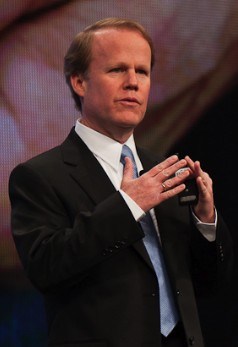 Jeffrey P. Burns, MD, MPH, is Chief of the Division of Critical Care Medicine at Children's Hospital Boston. He established and is Executive Director of the Children's Hospital Simulator Program, one of the first hospital-based pediatric simulator programs in the U.S., and also co-chairs the hospital's Ethics Committee. This post, second of three parts, is adapted from his recent talk at the IBM Impact 2011 Global Conference.
"Practice makes perfect" is an axiom that holds for most tasks, including providing health care to a critically ill patient.  And yet even if I'm in training for several years, the experiences I get and the experiences the person next to me gets are radically different – in fact, they're very random.  I'm on one night, you're on the next night, and what I saw last night, you won't see tonight.
That's no way to dose and sequence knowledge; in fact, no one would set up an educational program where you learned randomly.  There's a troublesome paradox: Medical crises are relatively rare events in children, as compared with adults, and thus there are fewer physicians and nurses with the necessary experience in caring for critically ill children.
Every month, I get letters from all over the world – "Dr. Burns, can I observe in your ICU?" Last month, we've had somebody from Iran, Pakistan and Turkey. And yet we often must say "no," because the walls are only so big. How can we best spread our knowledge and expertise? …