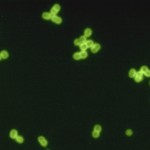 Serious pneumococcal infections – pneumonia, bacteremia, meningitis – are responsible for up to 11 percent of child deaths on the planet. Vaccines exist, such as Prevnar, but they have two big shortcomings.
First, they're designed to help people build antibodies against specific strains of pneumococcus. But new strains keep emerging, and most of those circulating in the developing world aren't covered.
Second, they're too expensive for most developing countries.
Six years ago, Richard Malley, of the Division of Infectious Diseases at Children's Hospital Boston, and Marc Lipsitch of the Harvard School of Public Health, showed that there is another defense against pneumococcus that doesn't care what strain it's encountering. And, despite what textbooks were saying, it has nothing to do with antibodies. …