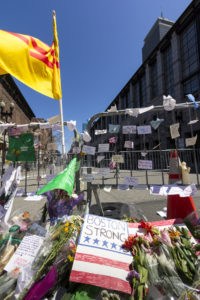 Daniel Busso, MSc, is a doctoral student at the Harvard Graduate School of Education and a researcher in the Sheridan Laboratory at Boston Children's Hospital.
More than 60 percent of teenagers have experienced a traumatic event in their lifetime, but only a minority will develop post-traumatic stress disorder (PTSD). For both researchers and clinicians, this raises an important question: Why are some youth at greater risk for mental health problems after trauma? As our lab reports in two recent studies, conducted after the 2013 Boston Marathon bombings, the answer may lie in our neurobiology.
PTSD, which includes intrusive memories, increased anxiety and difficulty concentrating or sleeping, has been linked to a variety of psychosocial and biological risk factors, such as prior experiences of trauma or a history of mental health problems. Other studies suggest that disruptions to the body's stress response system, or in patterns of brain activity when responding to threat, may predispose people to the disorder.
However, a common problem in this research is that biological and mental health data are collected only once, usually long after the traumatic event itself, …