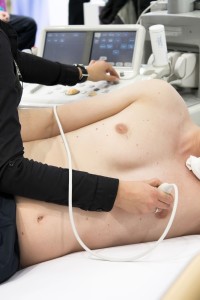 The drugs and treatments developed over the last 50 years have transformed many childhood cancers from death sentences into largely curable diseases. However, those same drugs and treatments can have lasting or late effects on many different organ systems.
Such is the case with anthracyclines: Patients treated with these chemotherapy agents have a greatly elevated future risk of congestive heart failure (CHF).
For this reason, the Children's Oncology Group (COG)—which brings together pediatric cancer experts from around the globe—currently recommends screening childhood cancer survivors with echocardiography every year or two, depending on their level of anthracycline exposure, for signs of asymptomatic left ventricular dysfunction (ALVD). If left untreated, this clinically silent condition can progress to congestive heart failure.
But are we screening the right survivors at the right times using the right methods? Answering that question for cancer and CHF would require prospectively studying thousands of survivors (itself a challenge, given childhood cancer's relative rarity) for decades, which is neither financially nor logistically feasible. …