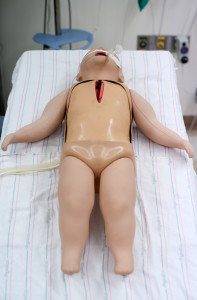 We often see medical magic in Hollywood, but it's not often we see Hollywood magic brought into medicine. Now, Boston Children's Hospital's Simulator Program and special-effects collaborators at The Chamberlain Group (TCG) have done just that.
Simulation has become a key component in team training, crisis management, surgical practice and other medical training activities. With simulation, medical teams can add to and hone their skills in an environment where people can make mistakes without risking patient harm—"practicing before game time," says Boston Children's critical care specialist Peter Weinstock, MD, PhD, who runs the Simulator Program.
Mannequins are a key part of simulation, and Weinstock's team, working together with companies, designers and engineers, has developed eerily lifelike ones that can bleed and "respond" to interventions based on computer commands from a technician.
But there are some things Weinstock's mannequins haven't been able to capture up to now, like the movements of a beating heart.
That's where TCG and a new mannequin called Surgical Sam come in. …