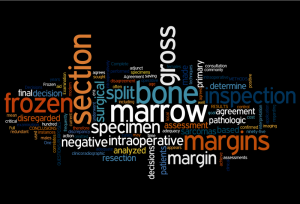 Improvements in imaging technologies have made the process of defining the extent of bone tumors like osteosarcomas increasingly accurate.
But while it's easier than ever to say, "The tumor starts here and ends here," when removing a bone tumor surgically, surgeons still need to take a moment during the operation to check the edges (or "margins") of the removed and remaining bone for any signs of remaining tumor, a step called intraoperative assessment.
"You need to make sure the tumor has been completely removed and a safe amount of normal tissue remains as a buffer," says Sara Vargas, MD, director of patient safety and quality in Boston Children's Hospital's Department of Pathology. "Achieving a margin that is free of tumor reduces a patient's long-term risk of local tumor recurrence."
During surgery, there are two ways to do the assessment, each method providing a check on the other: gross split specimen inspection and frozen section inspection.
The two methods, which are often done either simultaneously or in tandem during surgery, are quite different. …