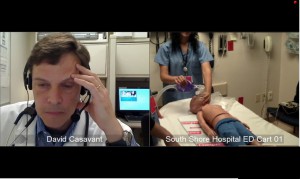 Naomi Fried, PhD, is Boston Children's Hospital's chief innovation officer. Shawn Farrell, MBA, Telehealth Program Manager at Boston Children's Hospital, contributed to this post.
Imagine yourself in an emergency department taking care of a very sick child. Should he be transferred to a higher-level care setting? Can he safely go by ambulance, rather than helicopter? As a doctor, you would like to consult virtually with colleagues and experts at remote locations.
Then imagine yourself in a large room in the heart of Silicon Valley, just a stone's throw from Cupertino and Apple headquarters. In that room are 5,000 of the biggest thinkers in health care and technology, exploring the next major paradigm shift in care delivery: telehealth. You realize that health care is on the brink of a telehealth explosion.
The energy was palpable as I took the stage at the recent American Telemedicine Association (ATA) conference. I was there to share our experiences launching the TeleConnect program at Boston Children's Hospital, …