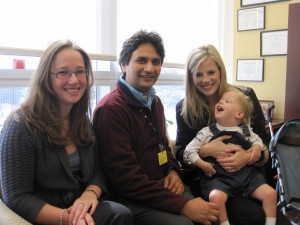 Sequencing a patient's genome to figure out the exact source of his or her disease isn't standard operating procedure — yet. But falling sequencing costs and a growing number of successes are starting to bring this approach into the mainstream, helping patients and families while advancing a broader understanding of their diseases.
The Stone family is a case in point. When John and Warren Stone were born, their parents were envisioning life raising identical twins, when suddenly everything changed. On their second day of life, the twins started to have seizures with stiffening of their arms and legs; more alarmingly, they would stop breathing from time to time, requiring a ventilator to help them breathe. Further work-up revealed that both John and Warren were having persistent seizures consistent with Ohtahara syndrome, a rare, debilitating seizure disorder.
Warren died a few weeks later, and the family transferred John's care to Boston Children's Hospital. An extensive clinical and genetic work-up here and at several other hospitals involved in his care — including sequencing all the genes known to cause Ohtahara syndrome – identified no cause for John's unique seizures.